Les Paul Materials in the Catalog
Our catalog has a subject category for "Inductee." If you enter this term in the search box and choose "Subject" in the dropdown box, you will retrieve information on our resources that are related to Rock and Roll Hall of Fame Inductees.

Limit your search by using the facets on the left of your screen in the library catalog, i.e. Format:

- Book
- Archival Collection
- Archival Item
- Audio
- Video
- Score
- Periodical
- Map
These links take you to additional content relating to Les Paul on the Rock and Roll Hall of Fame and Museum website.
These research databases can be accessed within the Library and Archives.
Les Paul on the World Wide Web
Below are a few of the books relating to Les Paul that are available for use in the Library Reading Room.
These books include the music for songs written or recorded by Les Paul and his wife, Mary Ford.
The Jazz Me Blues
Call Number: M1630.18.P385 J29 1948
Recorded by Les Paul of Les Paul and Mary Ford on Capitol Records no. 1825.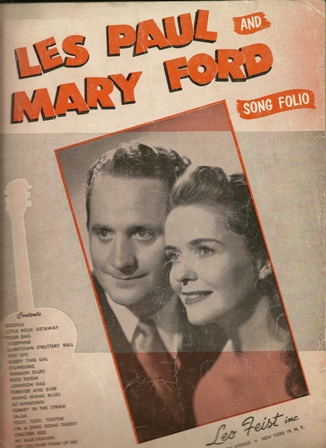 Les Paul Song Folio
Call Number: M1630.18.P385 L47 1951
For voice and piano; includes chord symbols and ukulele chord diagrams.
These are sound recordings of Les Paul available at the Library and Archives.
The Legend & The Legacy
Call Number: CDB PAUL LEGE 1991
This is classic material. Four CDs loaded with one song after another of magical guitar playing. The sound is terrific, and Mary Ford adds great vocals to many of the cuts, in addition to many instrumentals. Spans 1948-1957 and includes some portions of the Les Paul Radio Show with songs and dialogue between Les and Mary. The variety of techniques Les Paul invented that are still used today (such as multi-tracking) are on display in this set of music.
Riffin': the Decca, JATP, Keynote, and Mercury Recordings
Call Number: BOX COLE-N RIFF 2010
Nat was also the pianist for Norman Granz's first Jazz At The Philharmonic (JATP) concerts, trading solos with the future legend Les Paul and others in the summer of '44 - while he's otherwise a headlining superstar - and those rousing live jam sessions make up Disc 2.
This is a video recording with Les Paul available at the Library and Archives.
Tom Dowd & The Language of Music
Call Number: DVD DOWD TOM 2003
Profiles the life and work of music producer/recording engineer Tom Dowd. Featuring music and appearances by Les Paul, Eric Clapton, John Coltrane, Ray Charles, Otis Redding, Ornette Coleman, and other musical luminaries.
Les Paul & Mary Ford Show: World Is Waiting For The Sunrise Les Paul - Chasing Sound!